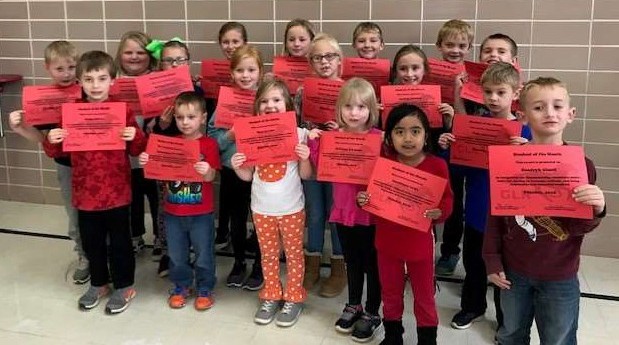 Giving Thanks to Our Community
Dear parents, students, friends and neighbors,
As we head into Thanksgiving weekend, I want to express my gratitude for our district families, staff and the entire GLR community for all you do every day to nurture our students' growth and success. I am thankful and proud of many things, large and small. Here are just a few recent points of pride:
Seven GLR volleyball players were selected to the Sioux Conference All-Academic Team. To qualify, players must be seniors and have a cumulative GPA between 3.75 and 4.0. Earning these honors are Makenna Arends, Mackenzie Fugitt, Kayla Gerken, Karissa Harms, Michaella Johnson, Rebecca Krull and Julia Storm.
We received $45,000 in rebates for the LED lights that Sitler Company of Washington, Iowa, installed throughout the district last summer. Estimated payback is approximately three years.
Thanks to a group of volunteers, we now have community open gym at the GLR High School from 3 to 5 p.m. on Sundays. If you have questions, please contact Fred Landis at 712-869-0102. Thank you, volunteers!
I hope you and your loved ones have a relaxing Thanksgiving break. Come back refreshed for a strong finish to the first half of the school year. As always, if you have questions or concerns feel free to contact me at 712-475-3311 extension 302, email at jeyerly@george-littlerock.org or stop by for a conversation.
Go Mustangs!
John Eyerly
Superintendent
George-Little Rock Community Schools
Community Invited to Madrigal Dinner and Concerts
Enjoy a catered meal, along with musical and theatrical entertainment!
Come one, come all to the first-annual Madrigal Dinner on Saturday, Dec. 15, at 6 p.m. at GLR High School. The catered dinner includes appetizers, pork loin, cheesy potatoes, green bean casserole and dessert. There will be musical entertainment and a play featuring our King and Queen.
Tickets are $25 if purchased by Nov. 30 or $30 if purchased between Dec. 1-10 (no tickets are available after Dec. 10). Order tickets by calling the GLR High School office at (712) 475-3311, purchasing them from a Broadway Bound student or by ordering tickets online here. Free babysitting is available. Good King Whatisface decrees, "It will be a night to remember!"
Other Upcoming Events
Nov. 27:  George Elementary Cookies & Milk Student of the Month Celebration
Dec. 3:  High School Winter Concert, 7 p.m.
Dec. 4:  Assembly in auditorium for students in grades 5-12, 2:10 p.m.
Dec. 6:  Perseverance Day for grades 9 and 10
Dec. 6:  George Elementary Winter Concert, 7 p.m.
Dec. 7:  Early dismissal – HS / MS 12:50 p.m., Elementary 1 p.m., Rural 1:10 p.m.
Dec. 8:  ACT assessment test
Dec. 10:  FFA meeting, 7 p.m.
Dec. 10:  Little Rock Elementary Winter Concert, 7 p.m.
Dec. 10:  Middle School Winter Concert, 8:15 p.m.
Dec. 15:  Madrigal Dinner, High School, 6 p.m.
Dec. 21:  End of 1st semester/2nd quarter
Dec. 24 – Jan. 2:  NO SCHOOL – Winter break
Jan. 3:  Classes resume, Genius Week
Tricks to Help Struggling Readers
Many educators have various views on how to help young learners build a solid foundation with reading. Beginning readers are "learning to read," and by second grade a shift occurs where students are "reading to learn."
Teachers in second and third grades have a pivotal role to play in building healthy habits for all students in literacy. Students in these grades should be fluent and independent readers by the end of the school year, so they can begin to dig deep into their learning and take on more significant roles as learners. One other area that is significant, and the responsibility of both the teacher and the family, is building reading STAMINA. When a student can read for longer periods of time you will see a steady increase in fluency and comprehension.
Professional educators know that some students, for different reasons, simply struggle learning how to read. Please read over the SIX helpful tips below to help your young reader improve their skills by adding more tools to their learning box:
THE TELEPHONE TRICK You can make a telephone-like device out of PVC pipe where a student can read out loud in one end and place the other up to their ear. This allows for your student to hear his/her voice and the various sounds those letters make.
THEME YOUR NOOK! Create a fun and stimulating place at your home for your student to have a cozy place to read. Create a fort with chairs and blankets draped over them. Create different themes to bring excitement. Simply place beach towels on the floor and have a beach theme. By creating a place where your student would want to hang out and read will help you to start on the right path for building that STAMINA.
READING ALOUD is a wonderful way to help your student hear good reading being modeled by YOU. It is OK to read short books repeatedly, which can enhance early language development. Books with rhymes are especially beneficial because this can help with phonemic awareness.
GET COOKING! Reading the instructions and ingredients out of a cookbook slowly and repeatedly builds comprehension. Go to the library and let your student choose a recipe out of a cookbook. As your student is reading the recipe out loud, begin preparing the item/meal and then switch roles. Lastly, have your student write out some menus. Writing skills can strengthen reading skills.
READ THE BOOK, THEN WATCH THE MOVIE! Find books that have been made into movies. Take time and read the book with your student, and as you read together, take some time to talk about the STORY ELEMENTS:

Setting: When and where the story takes place.
Characters: Who the major and minor characters are in the story. For more advanced readers, who are the protagonists in the story versus the antagonists?
Conflict: The problem in the story and how it was resolved.
After you finish reading your book with your student, watch the movie together. After viewing the movie together, talk about how the book and movie were the same. Lastly, discuss how the book and movie were different. HAVE FUN!
VISIT YOUR LOCAL LIBRARY and make this visit into an ADVENTURE! As you enter the library, stop by the front desk and check to see what kind of activities or programs might be going on or happening soon. Next, get your student a library card. This will help your student take ownership of their reading experiences.
Reference: Teacher Elementary Staff, (2014, June 12), 6 Tricks to Help Struggling Readers
GLR Celebrates Local Veterans:
GLR honored veterans at a Veterans Day celebration Nov. 12 in the GLR High School Gym. Patriotic music was performed by the High School Band, under the direction of Nicole Lewis and the High School Choir, led by Tim Mauldin. The Jack Sauter Post 404 American Legion of George posted the colors, and "Taps" was played. Thank you, veterans, for your service and sacrifices.
Students Learn Business and Dining Etiquette
George-Little Rock High School students got lessons in business and dining etiquette as area professionals coached them at the Business Etiquette Expo Nov. 1. About 120 students from three area high schools – including 20 juniors and 37 seniors from GLR – attended the event at Northwest Iowa Community College (NCC) in Sheldon. Also attending from GLR were Ms. Tina Sherrill, Mrs. Michele Johnson, Mr. Steven Green and Mrs. Amy Schmidt.
All students were asked to dress in professional best attire. A panel of business professionals shared words of wisdom or advice to students about interviewing techniques, dos and don'ts for both the interview and the workplace, characteristics sought in potential employees, dress for interviewing/employment and procedure to use a staffing agency. The panelists were Mr. Kevin Cain (CainEllsworth), Ken Hengeveld (Iowa State Bank), Miss Kolbie Vande Brake (Interstates) and Ms. Angela Kamstra (Aventure).
After the panel, Mr. Gill, a business professor at NCC, presented appropriate dining etiquette. All attendees received a flyer that showed an individual place setting for a formal dinner. Gill explained each part of the place setting and answered typical questions that anyone might have regarding this type of event. Topics included how to engage in conversation, give/receive a handshake, deal with awkward events at a meal and other helpful information about business dinners.
Throughout the meal, Janet Boone and Sheila Drenkow served as moderators and introduced individual NCC students and professionals as they participated in an "Appropriate Styles for Workplace Attire" fashion show. Areas they covered included Professional Business, Standard Business, Business Casual and Casual Fridays. I am happy to say that I received a very nice compliment about the overall dress of our GLR students. With the exception of a few, every GLR student was dressed in their 'Professional Best' and set a great example for all students in attendance.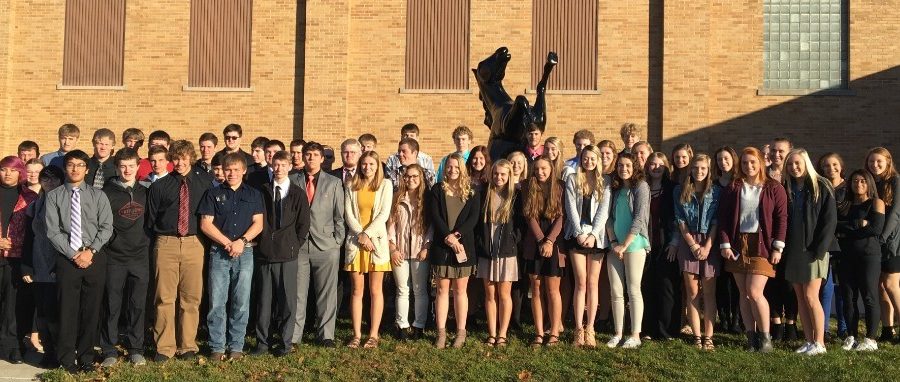 District Sets Preschool Location Guidelines
Last spring, the GLR School District announced that due to low preschool enrollment in the Little Rock area, the District would consolidate its two preschool sessions into one location (George) for the 2018-2019 school year.
After some community members expressed concerns about the lack of a preschool site in Little Rock, the Board of Education asked administrators in August to review the issues and make recommendations in November for future years.
Superintendent John Eyerly had extensive conversations with Little Rock Elementary Principal Schilling and Stacie Ver Steeg, former preschool teacher and Little Rock resident. Leaders also discussed preschool options at the SIAC (School Improvement Advisory Committee) meeting. As a result of these discussions, Eyerly made the following recommendations for future guidelines which were approved by the Board on Nov. 12:
Six will be the tipping point – if Little Rock has six or more preschool students, then a preschool session will be held in Little Rock. (For 2018-19, there were four Little Rock preschool students.)
If a preschool session is held in Little Rock, George parents will be invited to attend Little Rock for smaller class sizes. (However, transportation would only be provided to licensed daycare centers.)
If there is a session in Little Rock and George has 20 or more preschool students, then all preschool placements will be based on a first-come, first-served basis as long as it makes sense geographically (e.g. If the last student enrolled is on the opposite side of the district, we would not make that student go to Little Rock).
We know how important a community site is to our Little Rock families and we are trying to balance that with operational logistics. We surveyed our preschool parents this fall to ask how families were faring and whether transportation was working or not. Feedback has been positive. We will continue to monitor the situation and we welcome continued feedback from our families. Registration information will be provided in spring 2019 and questions can be directed to Principal Schilling.