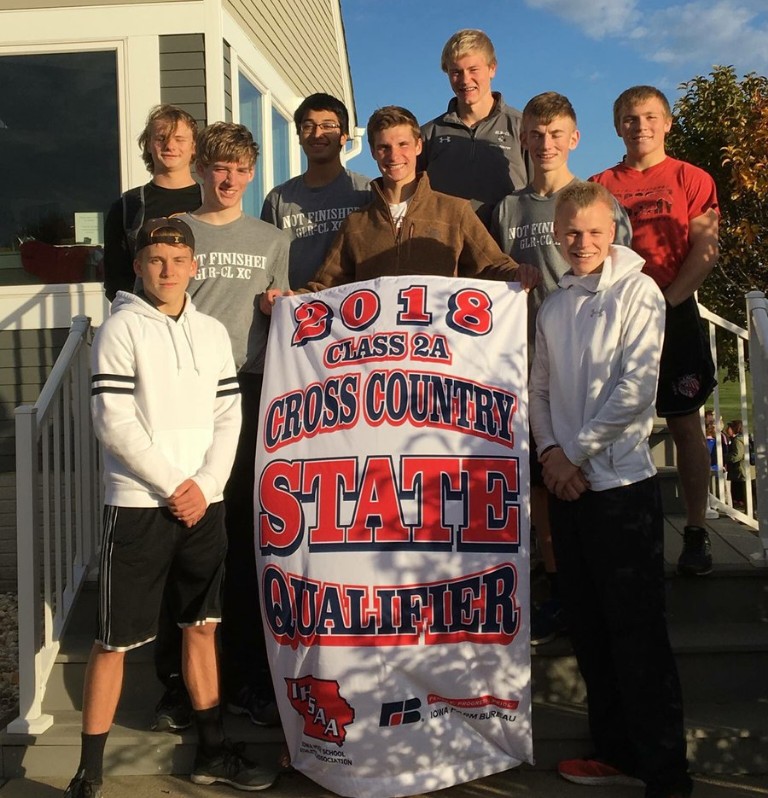 Connect with Your Teachers
Dear parents, students, friends and neighbors,
This week brings our first Parent-Teacher conferences of the school year and we hope you take advantage of this great opportunity to connect with your children's teachers. Conferences are available from 4 to 7:30 p.m. Thursday, Nov. 1. Principal Steven Green shares other valuable family-school communication ideas in this e-newsletter.
Congratulations to our Boys' Cross-Country team for making it to state last weekend, where they placed fourth. Individually, senior Joe Anderson placed second. We applaud all GLR-CL runners for an exciting season! We also congratulate Miranda Dressen for winning GLR's first American Degree award at the National FFA Convention in Indianapolis, Ind., last week.
Parents, we want to alert you about the dangers of teenage vaping with e-cigarettes called JUUL that look like a USB thumb drive. They market their fruit flavors but they contain addictive nicotine. This newsletter has resources including tips on talking with your children.
As always, if you have questions or concerns feel free to contact me at 712-475-3311 extension 302, email at jeyerly@george-littlerock.org or stop by my office for a conversation.
GO MUSTANGS!
John Eyerly
Superintendent
George-Little Rock Community Schools
Mustang Madness Alumni Game Nov. 16
Calling all alumni! On Friday, Nov. 16, George-Little Rock will be hosting the Mustang Madness Alumni Basketball Game for any alums interested in getting back on the court.
For the past two years, Mustang Madness has been a fundraising event for our boys' and girls' basketball programs, as well as a fun way to start off the new season. The event has previously included a free-will donation meal followed by a boys' team practice and a girls' team practice with a raffle and shooting contests. This year, we will have those events, but we have also decided to add an alumni basketball game in between practices.
Schedule (times are approximate):
5 p.m. – Free-will donation meal
6:30 p.m. – Girls' basketball practice
7 p.m. – Alumni games
8 p.m. – Boys' basketball practice
T-shirts are available for $10. There will be red teams and black teams for the games that will be determined later. Sign up below or contact Tyler Glanzer with questions or to request more information.
Upcoming Events
Nov. 1:  Parent-Teacher Conferences, 4 to 7:30 p.m.
Nov. 1:  Coffee with the Superintendent, 9 to 10:30 a.m. and 5:30 to 7 p.m. at Little Rock Town and Country Building, 309 Main Street, Little Rock
Nov. 2:  NO SCHOOL
Nov. 2:  ACT Test Registration Deadline
Nov. 2-3:  Fall Play, Little Women, 7 p.m. Tickets are $10 and can be purchased in advance by asking a member of the cast or by calling the school district at 712.475.3311.
Nov. 6-9:  Girls' State Volleyball, Cedar Rapids
Nov. 7:  FFA Fruit Sale ends
Nov. 9-10:  Augustana Band Festival, Sioux Falls, SD
Nov. 12:  Veterans Day Program in the Auditorium, 10 a.m.
Nov. 12:  CL-GLR Football Banquet, Central Lyon Elementary Gym, 6 p.m.
Nov. 15-17:  All-State Music Festival
Nov. 16:  Mustang Madness, 5 p.m.
Nov. 21:  Early Dismissal HS/MS 1:50 p.m.; Elementary 2 p.m.; Rural 2:20 p.m.
Nov. 22-23:  NO SCHOOL – Thanksgiving break
Dec. 15:  Madrigal Dinner, High School, 6 p.m. Tickets are $25 if ordered prior to Nov. 30 and the price will go up to $30 from Dec. 1 until Dec. 10 (no tickets can be ordered after Dec. 10). Free babysitting will be available for younger children.
FFA Convention Brings Award, Garth, Trump
From winning a new award to seeing Garth Brooks in concert to hearing President Trump, George-Little Rock FFA students had an exciting trip to the National FFA Convention in Indianapolis, Ind., last week.
GLR FFA advisor Molly Bomgaars attended with students Dax De Groot, Miranda Dreesen, Morgan Hinrichs, Kody Koerselman, Ashlee Rypkema and Dylan Winkel. Thanks to Security Savings Band and Frontier Bank for donations that helped cover meal costs.
Dreesen was awarded as George-Little Rock's first ever American Degree recipient. Only 2% of FFA members ever receive this high of a degree. Amazing job, Miranda!
Students also toured Fair Oaks Farms and saw its 72-cow milking carousel, as well as a PRCA rodeo and the convention expo and career show.
Operational Sharing: What Is It and Why are We Doing It?
I have received several inquiries regarding our recent sharing agreements with several schools in the area. Following is a brief explanation of Operational Sharing and the rationale to enter into sharing agreements with several local schools.
The intent of Operational Sharing is to provide districts a process to share specific staff in a cost effective and efficient manner. Iowa state statutes allow districts to share positions and when they do, both districts earn funding for additional students.
Due to resignation, we were searching to find a replacement for Buildings and Grounds and Transportation Director. We started conversations with Hartley-Melvin-Sanborn (HMS) and Sheldon School Districts regarding the possibility of sharing staff and entering into an operational sharing agreement for these positions. Both districts were open to the concept and the GLR School Board recently approved entering into a sharing agreement with the Sheldon Community School District for Buildings and Grounds and with the HMS District for Transportation Director. These two agreements will result in an increase of 10 students of additional state aid for the district for the 2019-2020 school year.
Additionally, we have entered into an Operational Sharing Agreement with Harris-Lake Park, Sheldon, Sibley-Ocheyedan and Boyden-Hull for an HR Director. The HR position will result in additional state aid of five more students and since we hold the contract, we (GLR) will receive payment from the cooperating districts during the 2018-2019 school year and also receive the state aid during the 2019-2020 school year and each year the agreement is in place.
With the agreements in place for Buildings and Grounds, Transportation and HR, the GLR district will receive additional funding from the state for 15 students and approximately $100,000. If you have further questions, please contact me at at 712-475- 3311 extension 302, email at jeyerly@george-littlerock.org or stop by for a conversation.
-John Eyerly, GLR Superintendent
Strengthening Family-School Communication
Effective Communication
As a parent, it is vitally important to be an advocate for your student. Good two-way communication between families and schools is necessary for your students' success. Not surprisingly, research shows the more parents and teachers share relevant information with each other about a student, the better equipped both will be to help that student achieve excellence academically.
Opportunities for two-way communication include:
Parent-teacher conferences
Parent-teacher organizations or school community councils
Weekly or monthly folders of students' work sent home for parent review and comment
Phone calls
E-mail or school website
What is Successful Parent Involvement?
Have you ever considered getting involved at your students' school? At home? Successful parent involvement can be defined as the active, ongoing participation of a parent or primary caregiver in the education of his or her child. Parents can demonstrate involvement at home by reading with their children, helping with homework and discussing school events – or at school by attending functions or volunteering in classrooms. Schools with involved parents engage those parents, communicate with them regularly and incorporate them into the learning process.
Has Digital Homework Reached Your Doorstep?
In many schools, teachers are using various connected devices to support your students' personalized learning. At GLR, you may have already encountered this with your student in multiple classes. Sometimes as parents, it may be difficult to comprehend what your student is being asked to do on their new Chromebook or laptop computer.
If you're not sure what your student is being asked to do as a learner, please reach out to that teacher so you can understand how the technology is being used to enhance learning. If your household doesn't have Wi-Fi for various reasons, please reach out to that teacher in a timely manner so appropriate accommodations can be put in place.
Dinner Time!
The importance of eating dinner with your children can help shape your relationship with them. According to The National Center on Addiction and Substance Abuse at Columbia University, kids and teens who share family dinners three or more times per week:
Are less likely to be overweight.
Are more likely to eat healthy food.
Perform better academically.
Are less likely to engage in risky behaviors.
Have better relationships with their parents.
Are better community members.
Develop stronger communication skills.