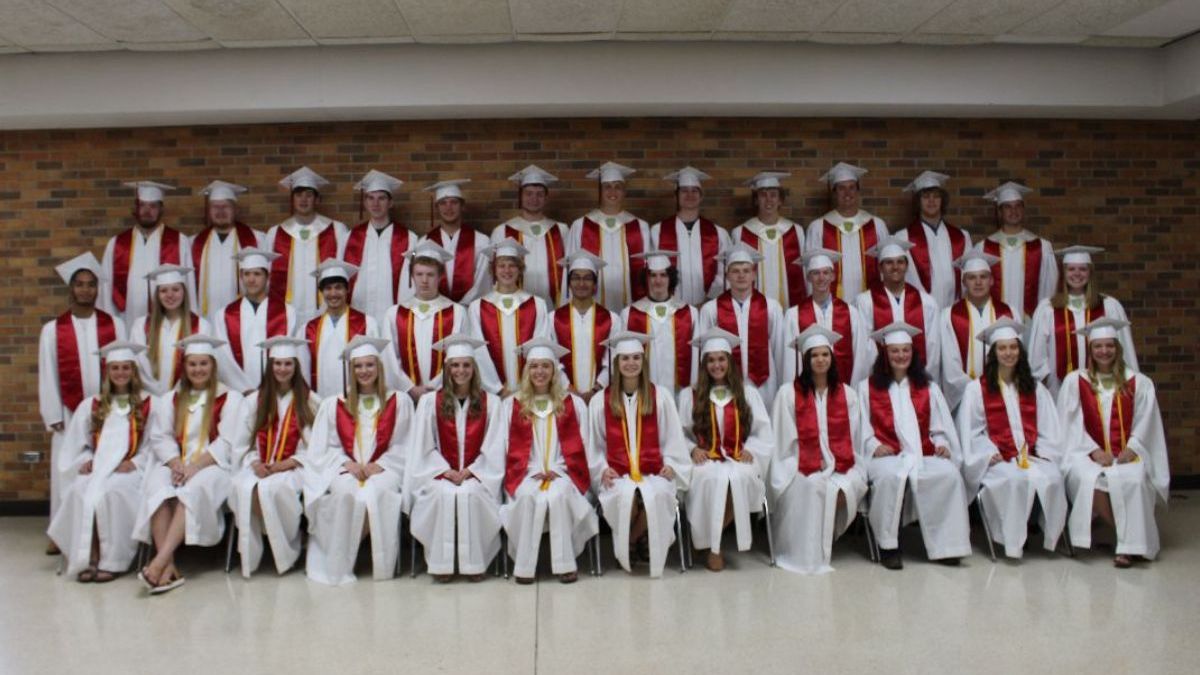 Congratulations to the Class of 2019
"I will continue my path, but I will keep a memory always."
– Rosie Thomas, singer-songwriter
As our Class of 2019 graduates close this chapter of their lives and head off to college and careers, I also am charting a new journey. After two incredible school years at George-Little Rock Community Schools, I have decided to resign and focus on family. I grew up in southwest Iowa near Council Bluffs and was thrilled to return to Iowa from Wisconsin to be closer to my elderly mother.
I appreciate the support I have received from George-Little Rock students, staff and community. You have continually inspired me! This year was filled with great achievements. Consider just a few:
Our district was one of just four in Iowa to be named a "Best Community for Music Education" and one of just 4% of districts nationwide.
Sixth grader Gregory Stueven placed 6th in Statewide Spelling Bee
A G-LR Middle School team finished 1st in the Northwest Area Education Agency's Book Bash
Students completed Genius Week projects
A "Day of Great Expectations" continued our Perseverance Day program and Boot Camp at Camp Foster in Spirit Lake
2016 GL-R grad Miranda Dressen won GLR's first American Degree Award at the National FFA Convention in Indianapolis, IN.
Speech won All-State nominations
More than 130 people attended our first annual Madrigal Dinner with a catered meal, music and theatrical entertainment
Students presented the fall play "Little Women"
Boys Cross-Country placed 4th at State
Seven GLR Volleyball players were named to the Sioux Conference All-Academic Team
Boys Basketball had a fantastic 20-4 regular season
Boys Track & Field won our school's first team State Championship
I know such achievements will continue in future years for our students and staff because this is a special place. As for the Superintendency, the Board is reviewing various options to fill the position.
I wish nothing but the best for our school and community. Thank you for the kindness you have shown me.
Have a wonderful summer and Go Mustangs!
John Eyerly
Superintendent
George-Little Rock Community Schools
Seniors Celebrated at Graduation and Awards Night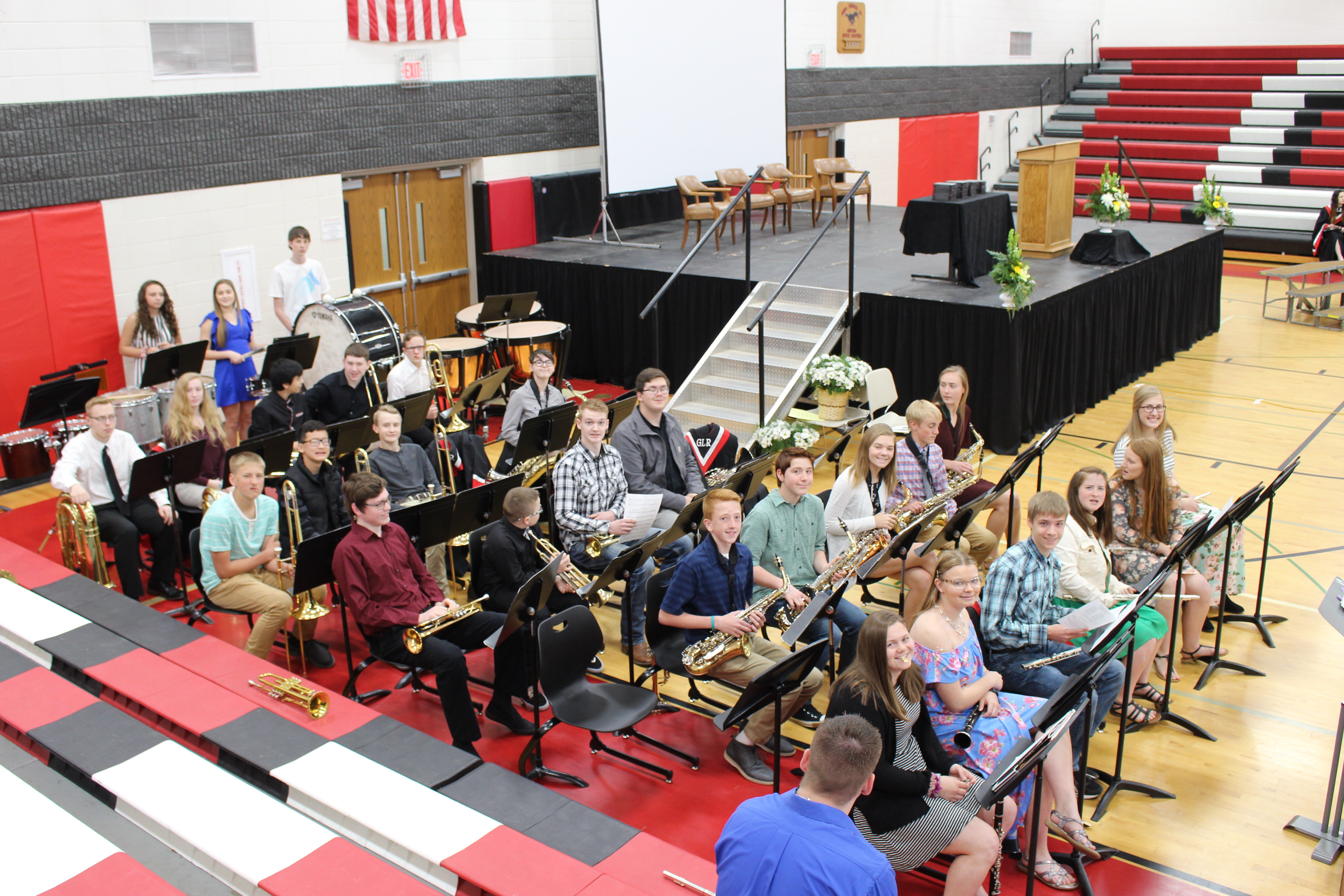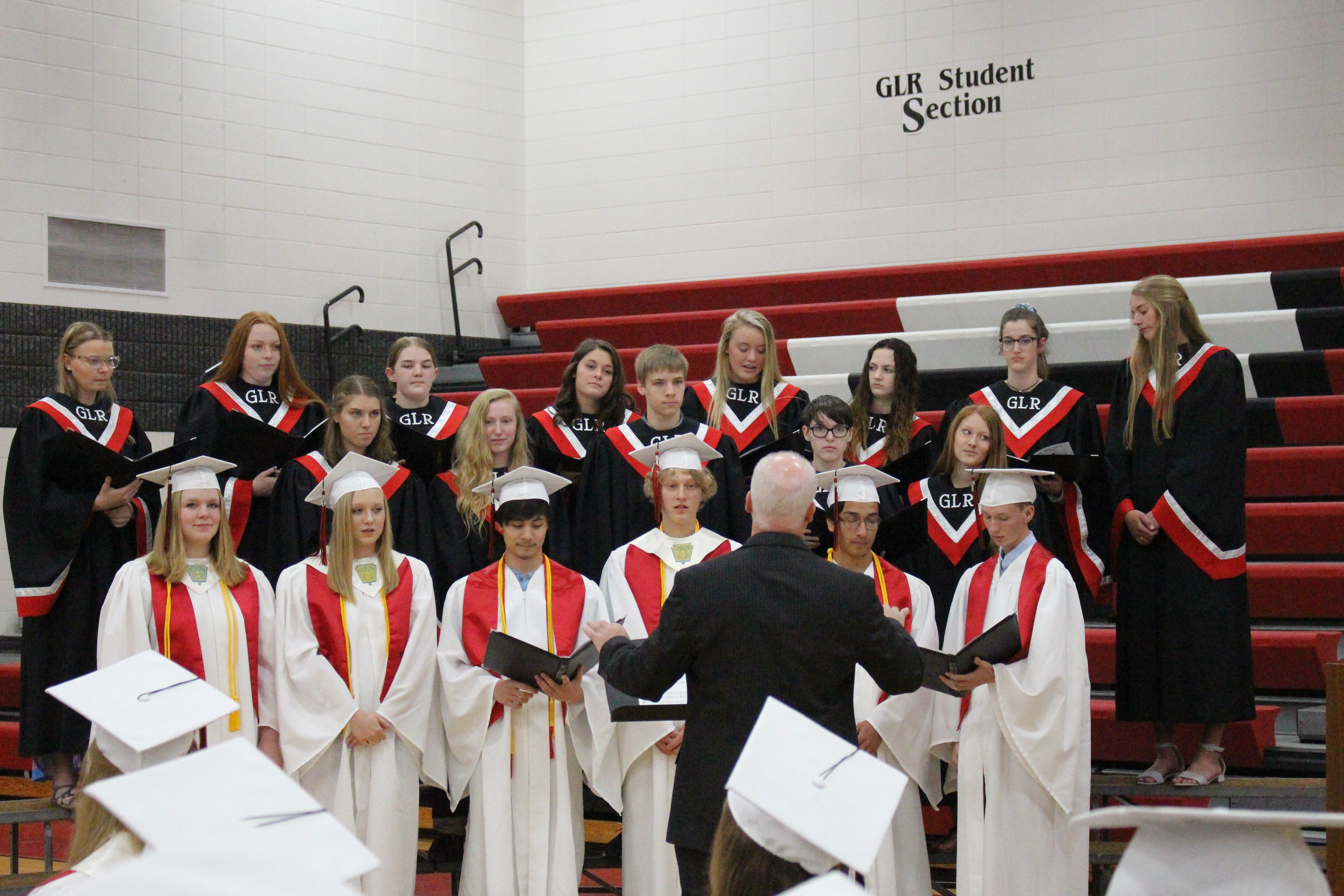 Years of hard work and accomplishments culminated in Graduation on May 19 for 37 Class of 2019 seniors. The event featured music by the George-Little Rock High School band and choir and speeches from Class President/National Honor Society Representative Rebecca Krull; Co-Valedictorians Joseph Anderson and Michaella Johnson; and Honors graduates Mackenzie Fugitt and Karissa Harm.
Many seniors also were recognized with academic, activities, arts and athletic awards and scholarships at Awards Night on April 30. Michaella Johnson was among students across Northwest Iowa honored by Gov. Kim Reynolds for high academic achievement at the 17th annual Governor's Scholar Recognition ceremony held in Des Moines.
Congratulations to ALL of our graduating seniors! We are proud of you and our schools will always be open for you to return to visit and share your journeys with us!
Boys Track Team Wins School's First State Title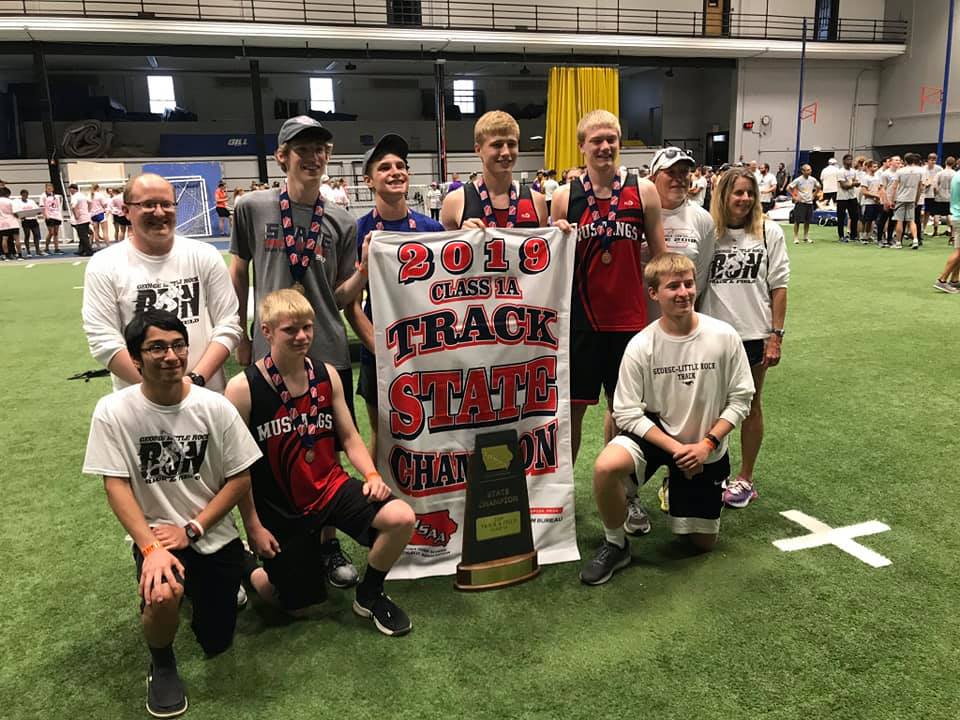 For the first time in G-LR High School history, the boys track team won the Class 1A State Championship, with two neighboring friends and teammates winning a pair of individual titles.
Competing in May at Drake Stadium in Des Moines, the GL-R track team won by scoring 52 team points ahead of Council Bluffs St. Albert (42) and Calamus-Wheatland (41).
Joe Anderson was the individual state champion in the 1600-meter run and shared a gold medal in the 3200-meter race following a bell lap error. In the 800-meter run, Peyton Maudlin was the state champion, followed by Anderson in second place.
"It all just came together today, and I'm glad to be a Mustang," Anderson said.
"A half hour before the race, there were multiple times where I almost broke down and cried," the senior said in this Sioux City Journal article. "I just love this sport. I don't want to see it end."
Anderson signed his intent to run track and cross-country next fall for Dordt College, while studying engineering.
Congratulations to the entire winning Boys Track team and to Coaches Curt Fieldler and Lori Fieldler and Assistant Mitch Lupkes for an amazing season!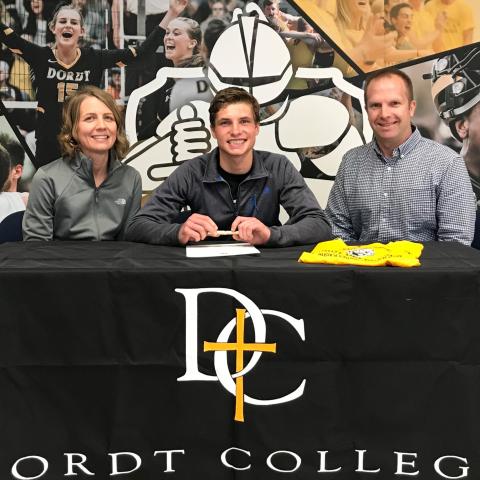 School Board Seeks Candidate for Vacant Seat
The George-Little Rock Community School Board is seeking applicants to fill the Board Member vacancy for District 4 Director. This board member will be appointed at an upcoming board meeting to complete the vacated position term until the November 2019 election. Applicants must reside within the Director District 4 boundaries.
Please mail or email the completed application form and any additional material you believe would be helpful by June 7, 2019 to:
Cathy Bonestroo, Board Secretary
George-Little Rock Community School
PO Box 6
George, IA 51237
Email: cbonestroo@george-littlerock.org
If you have questions, please call 712-475-3301, ext. 301. Application forms and boundary maps also are available at the District Central Office.
Join Us for Golf Tournament and 3 on 3 Basketball
May 29: Last Day of School
May 30: Staff Work Day
June 16: Mustang Booster Club Golf Tournament
July 5-6: 3 on 3 Basketball 2019 Freedom Days
Golf Tournament
ALL George-Little Rock sports teams will benefit from the Mustang Booster Club's Golf Tournament on Saturday, June 16! Join in on this awesome day of 4-Person Scramble Golf that includes golf at Otter Valley Country Club, lunch, and cart for $40 per person. You also get a chance to win prizes on every hole and flight winners!
Registration: 10:30 – 11:00 am
Lunch: 11:00 am
Shotgun: 12:00 pm
There is an opportunity to be a sponsor for the event & a hole. If you are interested, please contact Glenn Eben, Sponsor Coordinator at 712.330.4578 or email geben@coopfe.com.
3 on 3 Basketball 2019 Freedom Days
Get ready for 3 on 3 Basketball Tournament on July 5-6 for the 2019 Freedom Days! 4th grade and up can sign up! Max of 5 players for each team. Only $60 per team to sign up and there will be prizes for the 1st and 2nd place. It will be held in the GLR High School gym in George.
Sign up by June 24! Forms are available in the school offices. Send form and payment to Mr. Glanzer at 500 E. Indiana Ave, George, IA 51237. Questions? Email Mr. Glanzer or call 712-475-3311.
Student Studies Chinese Tariffs at Iowa Youth Institute
George-Little Rock High School student Will Hamilton attended the eighth annual World Food Prize Iowa Youth Institute April 29 at Iowa State University, Ames.
After qualifying by researching a topic and writing an academic paper, Hamilton joined more than 300 students from 130 Iowa high schools at the unique, innovative event that inspires future global leaders.
Students were divided into small groups to explore critical global food security issues and discover academic and career paths in STEM fields Hamilton was mentored in his work by G-LR HS Gifted and Talented Specialist, Tina Sherrill-Range.
"G-LR HS has sent a representative to the Youth Institute for four years now, and the range of their research has been impressive," said Sherrill-Range, G-LR Gifted and Talented Specialist. "Will Hamilton researched tariffs in China, and his paper made a case for self-sufficiency among the people of Hong Kong."
All student participants receive a $500 scholarship to Iowa State University's College of Agriculture and Life Sciences.
Summer Meals Available for Students
Children and teens age 18 and younger can get nutritious free meals through the Summer Food Service Program by visiting regional food locations. The closest location to George-Little Rock is at Ellsworth ISD #514 at 513 S. Broadway, Ellsworth, MN. 56129
Call 1-866-3HUNGRY or 2-1-1
Text "Food" to 877-877 or
Visit www.fns.usda.gov./summerfoodrocks
Dive into Books for Summer Reading Program
Keep reading when school is over! Find new engaging books during library summer reading programs. The Little Rock Public Library is hosting a "Star Lab" at the old City Hall in Little Rock on July 17 at 2 p.m. and a Movie and Popcorn event July 24 at 2 p.m.
Thanks to George Public Library for donating the book "Froggy Goes to School" to all our preschoolers!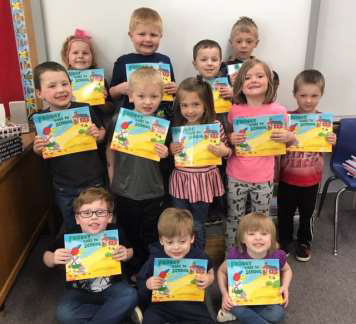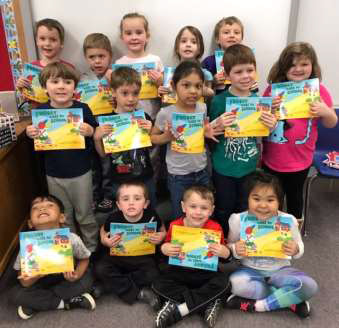 In the News
Two guitarists playing in the Noobers rock bandThe Noobers, a rock band comprised of George-Little Rock High School students who advanced to the Iowa Rocks Talent Finals, was featured on Nwestiowa.com.
Myles Master, Austin Dixon, Martin Macias, Solomon Johnson and Noah Wessels will compete Labor Day weekend for the chance for a free recording session at Catamount Recording in Cedar Falls and to perform at the Iowa Rock 'n Roll Hall of Fame Induction Concert.