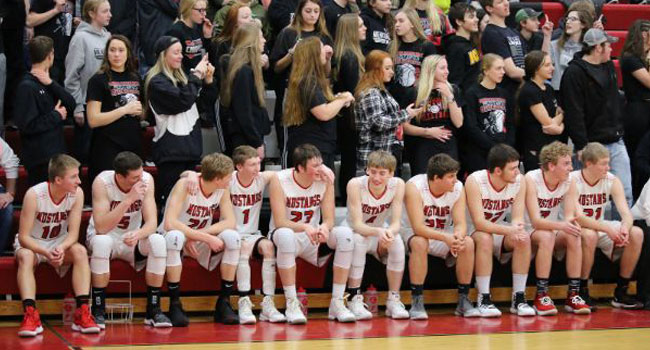 Kudos to our varsity boys' basketball team for finishing the season 20-4!
(Photo courtesy of Lyon County Reporter)
Spring Will Come… Eventually!
"Spring is when you feel like whistling even with a shoe full of slush." – Doug Larson
As we look forward to the promise of spring and slush instead of snow and ice, I invite you to check out our website to see the many upcoming activities involving our students, including the Swing Show, National Honor Society Induction, HS NASA trip and more.
I have received several inquiries regarding the school calendar and make-up days due to inclement weather. We are currently conferring with the state regarding our options and soliciting input regarding the schedule. I anticipate the GLR School Board will address the calendar at the board meeting on Monday, March 25, at 7 p.m. in George.
I want to congratulate our boys' basketball team players and coaches for their great season – and for this amazing note we received from referees thanking our students and coaches for their sportsmanship.
As always, if you have questions or concerns regarding the school, feel free to call, email, stop me on the street or drop by for a chat. We welcome the community into our schools to see firsthand the great things happening at GLR.
Go Mustangs!
John Eyerly
Superintendent
George-Little Rock Community Schools
Parent-Teacher Conferences March 19 and 21
Families, please join us for Parent-Teacher Conferences on Tuesday, March 19, and Thursday, March 21, from 4 to 7:30 p.m. This is a great opportunity to meet face-to-face with your students' teachers and discuss where students have done well and where they can focus their efforts for the rest of the school year.
Not sure what to ask teachers? Here are some ideas on how to make the most of conferences: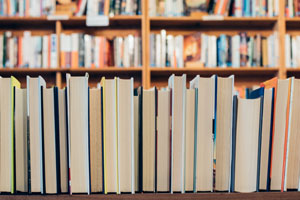 GLR Preschool Registration
GLR Preschool registration for the 2019-2020 year is underway. Children must be 4 years old by Sept. 15, 2019. Materials have been mailed out to families. If you haven't received them, please contact the George school office at 712.475.3675 or the Little Rock school office at 712.479.2771. Registration forms must be returned by March 29, 2019, to enroll your child. Each site (George or Little Rock) is allowed 20 students.
Other Upcoming Events
March 5:  National Honor Society Induction Ceremony, 7 p.m. in New Commons
March 7:  Speech Individual Evening of Performances, 7 p.m.
March 7, 12, 18, 26, April 4, 11:  Strengthening Families Program for ages 10 to 14 at George Elementary
March 8:  ACT Test registration deadline; End of 3rd Quarter
March 9:  State Individual Speech Contest, Moville
March 10:  SuperHoops Competition, 2 p.m., GLR
March 12:  USD Jazz Festival, Vermillion, SD
March 14:  National Honor Society Induction, 7 p.m.
March 15:  Early Dismissal: HS/MS 12:50 p.m.; Elementary 1 p.m.; Rural 1:10 p.m.
March 18:  Girls' Basketball Banquet, 6 p.m.
March 19 & 21:  Parent-Teacher Conferences, 4 to 7:30 p.m.
March 21-25:  High School STEM NASA Trip
March 22:  No School
March 25:  All-State Individual Speech Festival
March 29 & 30:  Swing Show, 7:30 p.m.
April 1-5:  Iowa Assessments – Grades 2-11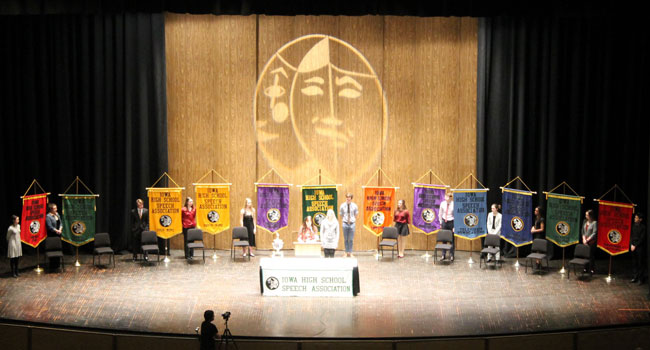 GLR Speech and Drama Wins All-State Nominations
Large Group
Congratulations to the George-Little Rock Speech team, which was honored with two recent All-State nominations! We are so proud of you! (See photos of groups here and more photos.)
The Group Mime, consisting of Samantha Hellenga, Kali Johnson, Linda Lewi and Kailey Sprock, performed Unleash Your Voice at All-State on Feb. 16. The mime tackles the idea of what happens if you stay silent or if you allow someone else to silence you. It's a powerful dramatic piece that is thought-provoking in this time of trying to be politically-correct, yet sharing your voice through writing, art and photography.
The Readers Theater, performing Elephant's Graveyard by George Brant, tells the true story of the execution of an elephant (Mary) after she killed her rider. The small town of Erwin, Tenn., hung Mary for her crime. It is the only known execution of an elephant. The performers, earning straight I's at State, were thrilled with the nonperforming nomination. Only three Readers Theaters were selected to perform, so the nonperforming honor is wonderful.
An All-State nomination – either performing or nonperforming – is a crowning achievement for any speech student. Congratulations to our students and their coaches: Brenda M. Sandbulte, Tim Mauldin and Kendra Reitsma.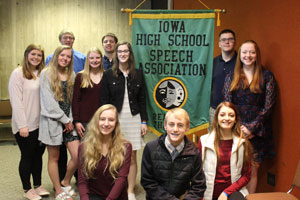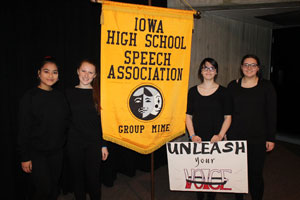 Individual Speech
Despite the chaos of weather, canceled practices, illnesses and a good case of the nerves, the George-Little Rock Speech team performed quite well at their recent District Tournament at Okoboji on Feb. 27. Our small school had 32 entries – talent is strong here at GLR. Of those entries, 20 received a I and 12 earned a very respectable II. Those earning a I will advance to the State Tournament on March 9 at Woodbury Central in Moville.
Congratulations, students!
Alex Bonestroo:  Radio I, Public Address I
Lillian Burdsall:  Acting I, Solo Musical Theater II
Dillon Chambers:  Radio I, Public Address I
Thea De Boer:  After-Dinner Speaking II, Prose II
Shealyn Denekas:  Expository Address I, Prose I
Cole Dirks:  Radio II, After-Dinner Speaking II
Andrew Everhart:  Storytelling I, Literary Program II
Karissa Harms:  Expository Address II
Lexi Hengeveld:  Review I, Solo Musical Theater II
Kali Johnson:  Literary Program I
Lauren Jurrens:  Original Oratory I, Review I
Brynn Krull:  Solo Musical Theater I
Rebecca Krull:  Poetry I, Review I
Megan Morgan:  After-Dinner Speaking I, Literary Program II
Chloe Smit:  Expository Address I, Storytelling I
Emma Stratman:  Expository Address II, Storytelling II
Ashley Stueven:  Prose I, Literary Program II
Noah Wessels:  Poetry I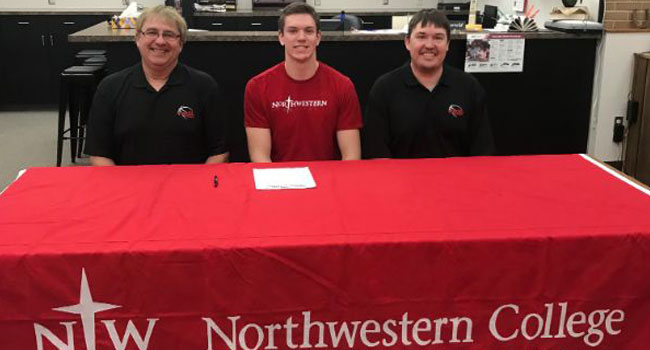 Congratulations to Lucas Nagel who signed to play basketball at Northwestern College!
GLR Alumnus Dreesen Earns High FFA Honor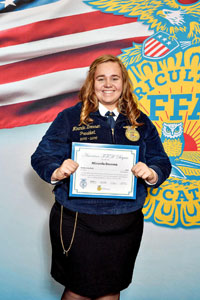 George-Little Rock High School Class of 2016 graduate Miranda Dreesen has earned an American FFA Degree, one of FFA's highest honors. Dreesen is the first GLR FFA chapter member to secure the honor.
"By being the first person in George-Little Rock history to receive this honor makes me feel like I opened doors for other students to be able to receive this honor," Dreesen, 21, told the N'West Iowa Review. Dreesen is pursuing double majors in agriculture education and agriculture sciences at South Dakota State University in Brookings.
"The opportunities FFA has given me through my high school and college career to date have been memorable and will make a positive impact on my future," Dreesen said.
Social Media Dangers – Tips for Parents
It seems there is always something new to be concerned about regarding social media – and the latest is something called the "Momo challenge." Momo may be largely a viral hoax but its concept is disturbing and something parents, schools and police are monitoring.
As Common Sense Media describes, the Momo Challenge allegedly involves messages sent on platforms such as WhatsApp, Facebook or YouTube "with an unforgettable, horrifying picture of a girl and allegedly encourages kids to perform increasingly risky and harmful tasks, including hurting themselves." Many sites say the "girl" is actually a Japanese art sculpture and the challenge is a hoax.
This offers another opportunity for parents to talk with their children about social media, how to be safe on digital platforms and how to cope if disturbing images pop up.
National Online Safety has a guide for parents that includes these tips if they have seen any such challenges:
Tell children it's not real, be present and talk with them about fears
Use parent controls on devices
If you see something, say something – record and report any inappropriate content to the platform.
YouTube sent this tweet on Feb. 27 saying it has not seen any evidence of the Momo challenge but to report it if any video is seen.
If you are concerned that your child may be suicidal, reach out to school counselors or contact the national suicide prevention hotline for resources at 1.800.273.8255.
How to be safe online:
Keep computers in areas of the house where parents can monitor digital use, not in bedrooms
Have children watch YouTube and other channels without headphones so you can hear the content
Don't provide personal information online, including your name, age, your school and where you live
The Cyberbullying Research Center offers teenagers these 15 Tips for Smart Social Networking.