Beautiful way to end the Madrigal Dinner. Thank you so much for your support. Sorry that you hear me at the beginning.

Posted by GLR Speech and Drama Department on Sunday, December 16, 2018
Students ring bells and sing Silent Night to close out the Madrigal Dinner.
Happy Holidays
We have much to celebrate at George-Little Rock this month, with our first-ever Madrigal Dinner, second-annual Day of Great Expectations and seasonal winter concerts. Our athletes also are representing G-LR well, with our boys' varsity basketball and wrestling teams securing some excellent wins.
Just a reminder that we have a full school day this Friday, Dec. 21, and then students are off until classes resume on Jan. 3. I hope you are able to relax and enjoy time with family and friends.
As always, if you have questions or concerns, feel free to contact me at 712-475-3311 ext. 302 email at jeyerly@george-littlerock.org or stop by for a conversation.
Happy New Year and Go Mustangs!
John Eyerly
Superintendent
George-Little Rock Community Schools
Upcoming Events
Dec. 21:  Full Day of School, End of 1st Semester / 2nd Quarter
Dec. 24-Jan. 2:  No School / Winter Break
Jan. 2:  Teacher Work Day
Jan. 3:  Classes Resume for Students
Jan. 3-8:  Genius Week
Jan. 4:  ACT Test Registration Deadline
Jan. 7:  6th Grade Strong Foundations Honor Band in Sioux City
Jan. 8:  George Elementary December Birthday Club Celebration
Jan. 14-18:  Homecoming Week
Jan. 15:  George Elementary Kindergarten to the Nursing Home
Jan. 18:  Early Dismissal: Shuttle 12:50 / Rural Route 1:10
Donate to Our Local Food Pantry
Last chance!
Friday, Dec. 21, is the last day to donate to the Food Drive at GLR High School to benefit our local food pantry.
The event is hosted by the Student Council, and the grade level that donates the most will win a pizza party. Bolded items will be worth more points than other items.
Suggested items are:
Diapers, baby wipes, cream soups, canned tuna, canned chicken, canned soups, body wash, toilet paper, canned vegetables, applesauce, canned meat, cooking oils, instant mashed potatoes, peanut butter, rice, Kleenex, paper towels, crackers, cereals, meals in boxes, canned beans, dried herbs and spices, canned / dried fruit, oatmeal, granola bars, nuts, pasta and honey-canned tomatoes.
This food drive has challenged our students to make a difference in the community, to be aware of all community members and to show compassion.
Thanks to all who have donated!
Day Focuses on Perseverance and Integrity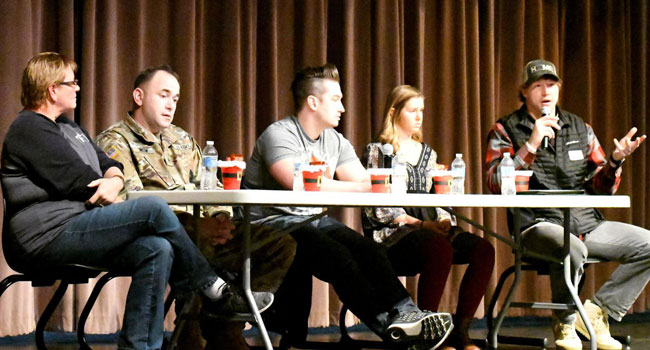 George-Little Rock High School alumni athlete and local business, religious and military leaders shared personal stories of perseverance and integrity during the district's second-annual "Day of Great Expectations."
"Education is more than just nouns, biology and math equations," said English and government teacher Brenda Sandbulte. "It's trying to help kids navigate the characteristics that make effective citizens."
While freshmen and sophomores focused respectively on perseverance and integrity at the Dec. 4 event, juniors next year will focus on collaboration and seniors on community as part of service projects.
Freshmen and sophomores attended breakout sessions with fun informative activities illustrating their themes, such as spiderweb challenges, escape rooms and a game of "What Would You Do?" They then listened to a panel discussion featuring:
Staff Sgt. Derek Allen — Army National Guard recruiter and former member of the U.S. Air Force who served in Afghanistan twice.
Kenneth Eberline — George-Little Rock graduate and pastor at First Reformed Church in Sioux Falls, SD.
Tyler Starr — George-Little Rock graduate and former NFL player.
Norma Winkel — Owner of The Flower Box in George.
Kate Wynja — Golfer. Self-reported an error on her scorecard at the 2018 South Dakota Class A state high school championship, which cost her the individual and team titles but earned national praise.
After the panel, all middle and high school students attended a session with motivational speaker Joel Penton, a former Ohio State University football player who was awarded the Wuerffel Trophy, also known as the Humanitarian Heisman.
Sandbulte told the N'West Iowa Review she hopes the lessons will inspire students to do the right thing and keep going in the face of adversity.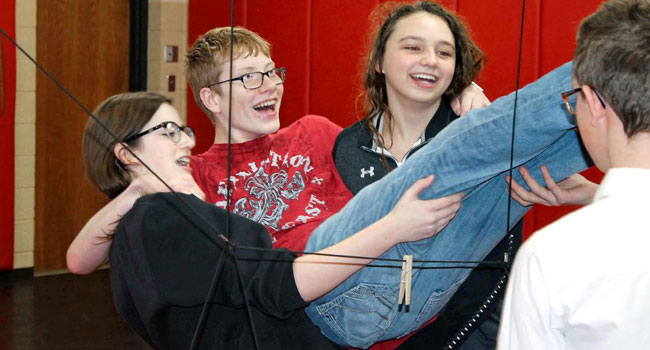 Students Get Ready for Genius Week
G-LR High School students are gearing up for the fifth-annual "Genius Week," which will begin after they return from winter break. Genius Week is a student-led, project-based learning curriculum in which students write proposals to solve a problem or create a product. Genius projects develop and assess students' skills in critical thinking, collaboration, communication and creativity.
Last year, there were 37 genius projects, plus 13 internships in which students visited area businesses. Projects included creation of a duck retrieval device, portable tractor, sport workouts, media platform and gluten-free foods. We are excited about the creativity and collaboration that our students will unleash after the New Year!
Inaugural Madrigal Raises Funds for Trip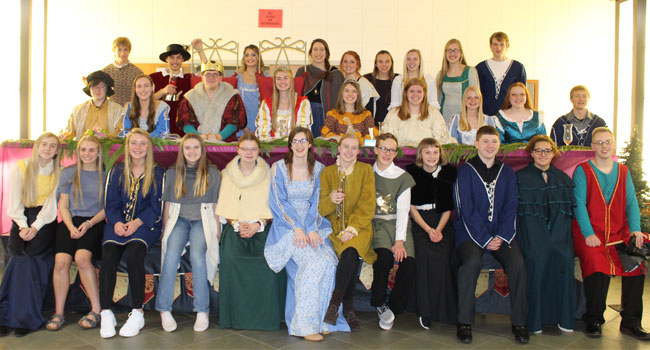 A packed house of more than 130 people enjoyed a catered meal, music and entertainment at the high school's first-ever Madrigal Dinner.
The Dec. 15 event helped raise funds for the G-LR Speech and Drama Department's planned 2019 trip to New York City and Washington D.C.
Thank you to all who attended! We hope you had a great time.
Students Share the Sounds of the Season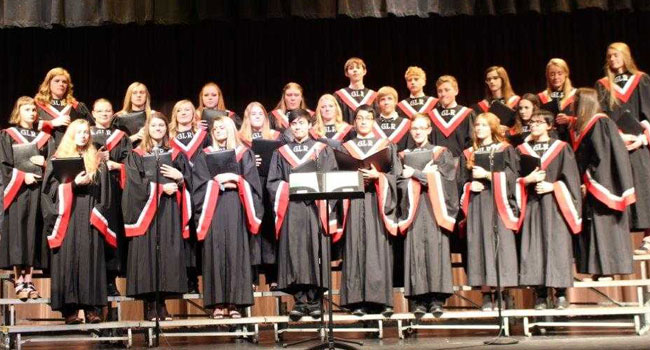 Our students got to show off all they have learned in choir and band so far this school year when they performed for families and community members at our December winter concerts. Here are just a few of the photos of our amazing singers and musicians.