Finishing Strong in the Home Stretch
Despite Mother Nature extending our school year calendar with make-up days, we truly are in the home stretch of the year! April and May are exciting times for our district, filled with final class projects and tests, as well as spring sports, concerts, banquets, art shows and award nights.
We welcome all parents and community members to join us for our school events. Our culminating annual event – the Class of 2019 Graduation – will be held at 2 p.m. on May 19. The last day of school for students will now be May 29.
Thanks for your continuing patience with our inclement weather and school closures. We will check the conditions over the weekend and make a determination if we can return to our regular schedule next week. We will make the announcement on Monday, April 22.
As always, if you have questions or concerns feel free to contact me at 712-475- 3311 extension 302, email at jeyerly@george-littlerock.org or stop by for a conversation.
Go Mustangs!
John Eyerly
Superintendent
George-Little Rock Community Schools
GLR Middle School Tops Book Bash Competition
Congratulations to our three George-Little Rock Middle School teams that competed Tuesday in the Northwest Area Education Agency's Book Bash! Of 61 middle school teams that competed at Hinton School, GLR's teams took 1st, 6th and 14th places!
The annual competition provides all teams with a list of the same books to read. Teams then divide up the books, read and prepare for the competition quizzes.
GLR Middle School Book Bash Teams:
1st place – Recreational Hazards (7th grade): Elise Sandbeck, Brita Candito, Alexis Landis, Matt Helkenn, Josiah Burdsall
6th place – The S.M.E.G.S. (7th grade): Matthew Everhart, Sydney Bender, Sara Betz, Gregory Stueven, Emily Winkel
14th place – Torn Pages (8th grade): Kennedy London, Alexis Arends, Wyatt Krull, Evan Kruger, Roya Amirhamzeh, Audreanna Dixon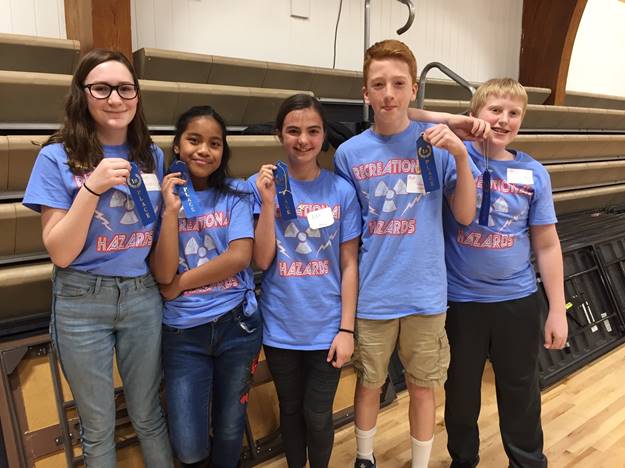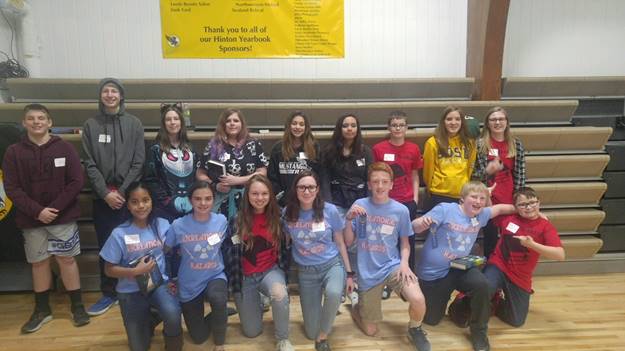 The books students read included Restart and P.S. I Like You (realistic fiction); I Survived the Attack of the Grizzlies 1967 (historical fiction); Mortal Engines, Janitors: Book One and Max Einstein: The Genius Experiment (sci-fi/fantasy); Some Kind of Courage and Michael Vey: Prisoner of Cell 25 (action/adventure); Ammulet: Book One (graphic novel); The Leaving (thriller/mystery); Ugly (non-fiction); Lone Stars and Baseball Genius #1 (sports); Moo (poetry) and The Secret Garden(classic).
Beautiful 'Night in the Sky' for Prom
Students did a terrific job decorating for last weekend's prom theme of "Night in the Sky." We hope students enjoyed the prom activities that included a Grand March, dinner, dance, photos and after prom event. Solomon Johnson and Karissa Harms were crowned King and Queen.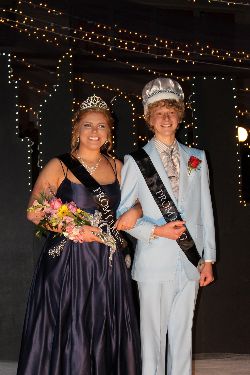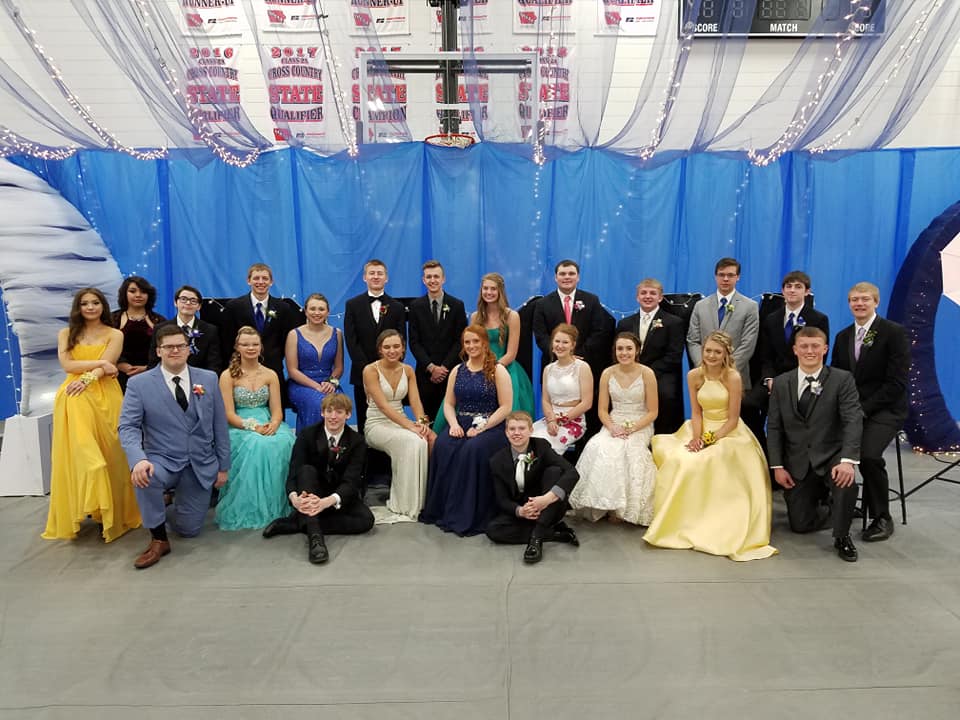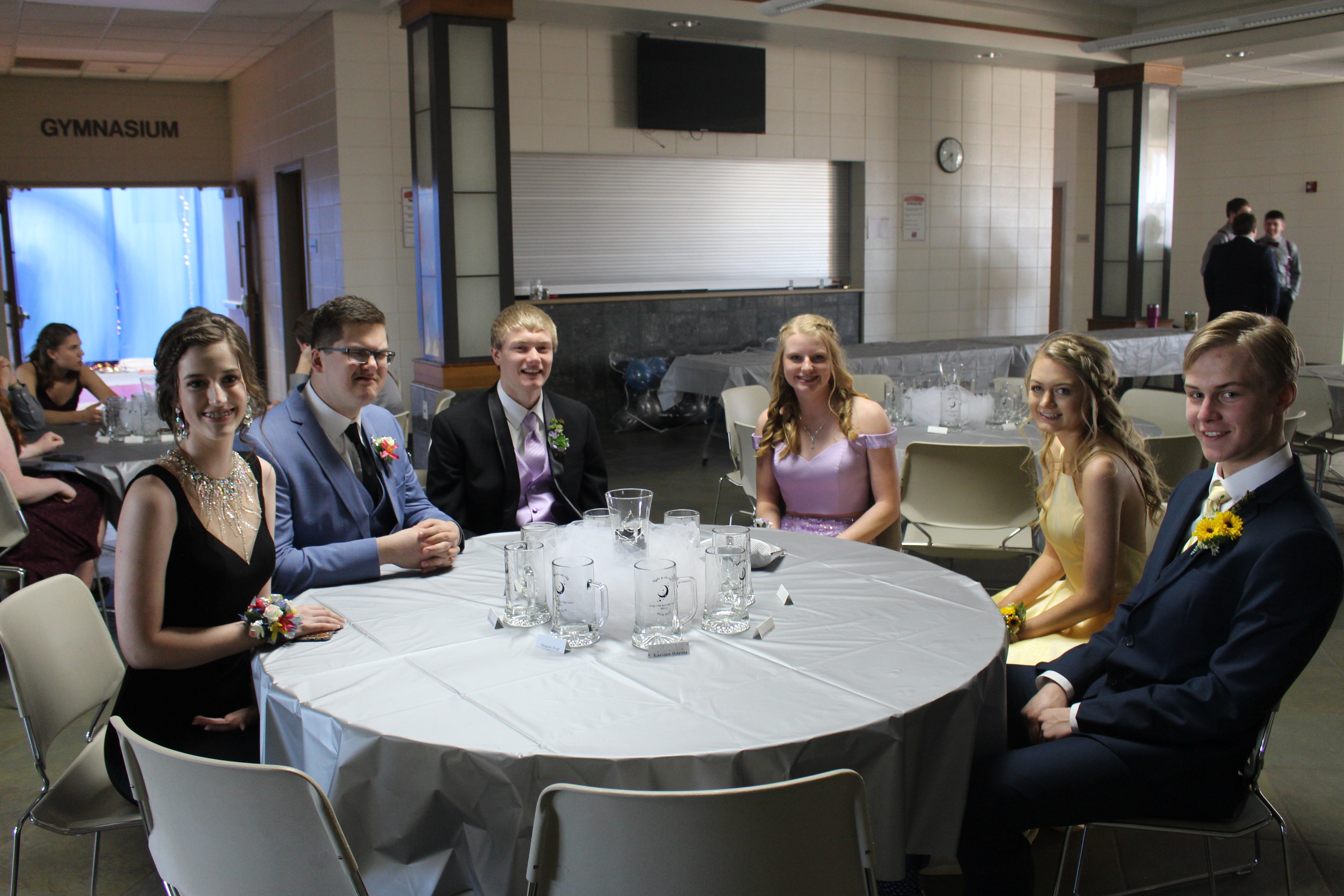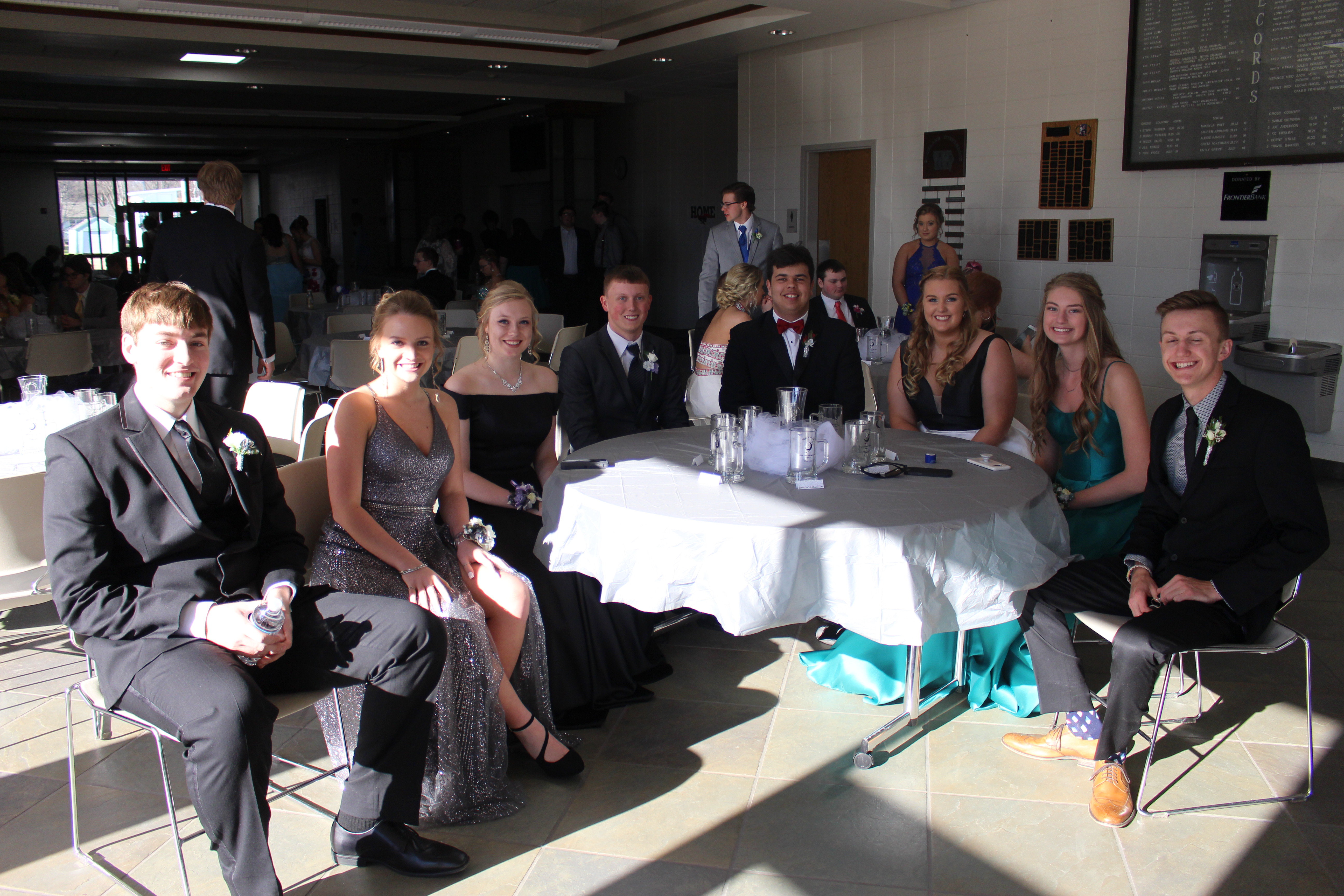 Make-Up Days for Inclement Weather
To make up for lost instructional time due to inclement winter weather, students will be in school for these make-up days:
Wednesday, May 22
Thursday, May 23
Friday, May 24
Tuesday, May 28
Wednesday, May 29
The last day of school for students is Wednesday, May 29.
Financial Aid Meeting for Juniors and Parents
All juniors and junior parents are invited to a Financial Aid Meeting on Tuesday, April 23 in the High School Media Center (library) at 5:30 p.m.
Other Upcoming Events
April 19 and 22 – NO SCHOOL
April 25 – Little Rock Elementary Spring Concert, 7 p.m.; Middle School Spring Concert, 8:15
April 26 – Speech Breakfast, High School Commons 6:45 a.m.
April 27 – FFA Banquet, High School Commons/Auditorium, 6:15 p.m.
April 29 – George Elementary Spring Concert, 6:30 p.m.; High School Spring Concert, 7:30 p.m.
April 30 – Awards Night and HS Art Show, Auditorium, 7 p.m.; Student of the Month Celebration at George Elementary
May 3 – ACT Test Registration Deadline; State Large Group Music Festival
May 6-10 – National Teacher Appreciation Week
May 10 – Early Dismissal HS/MS 12:50; Elementary 1:00; Rural 1:10
May 12 – Baccalaureate, Immanuel Lutheran Church in George
May 16-18 – State Track Meet in Des Moines
May 19 – Graduation, 2 p.m.
May 23-24 – Boys State Golf
May 27 – Grades 7-12 Concert Band at Memorial Day service, 10 a.m., High School
May 28-29 – Girls State Golf
May 29 – Last Day of School
Junior Earns Trip to Washington D.C.
Iowa Youth Tour posterGHS junior Kali Johnson was one of the top two scorers in a history contest by the Lyon County R.E.C., landing her an all-expenses paid trip to Washington D.C. to learn more about our country and Capitol.
Kali will travel June 14-20 to Washington, D.C. to join students from across Iowa and the nation for the Electric Cooperative Youth Tour. She is one of two high school juniors chosen by the Lyon County R.E.C. for the trip.
Students not only learn about U.S. history, see monuments and visit their U.S. Representatives and Senators, they also develop leadership skills, gain a better understanding of electric cooperatives, and make lasting friendships. Well done, Kali!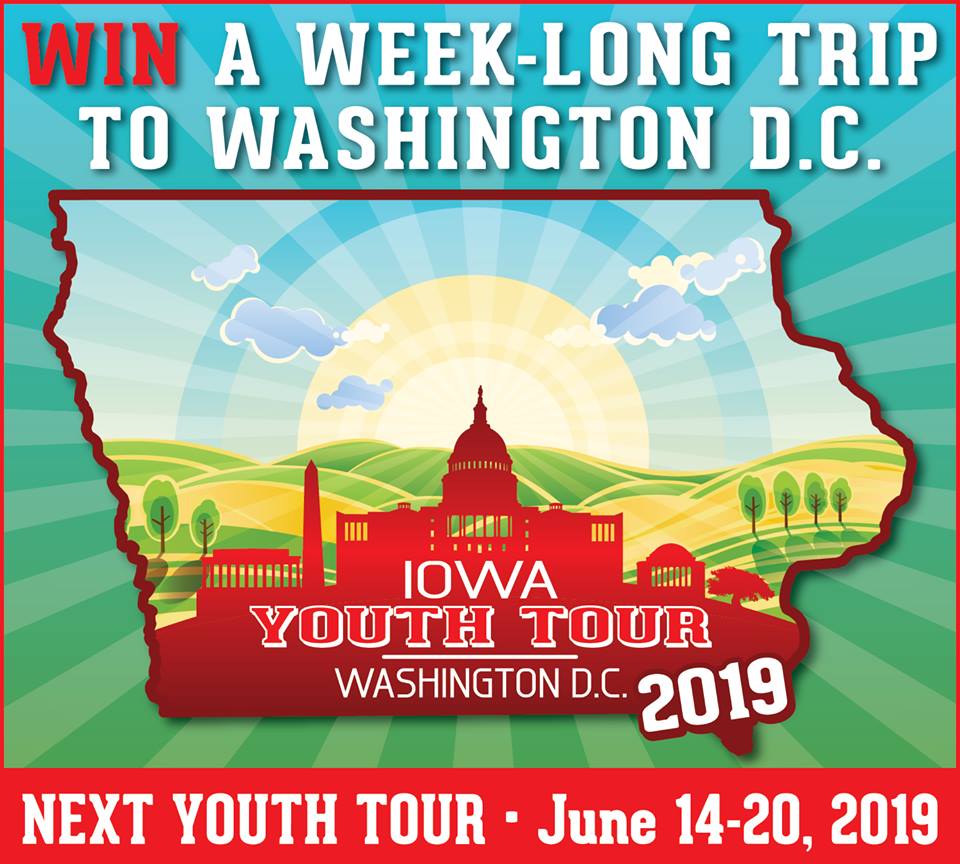 Senior Rock Band Advances to Finals
Iowa Rocks Talent posterFour GHS seniors have advanced to the "Iowa Rocks Talent Finals" where their rock band will compete for a free recording session and an opportunity to perform at the Iowa Rock 'n Roll Hall of Fame Induction Concert.
The seniors' rock band The Noobers competed at a regional contest at the Pearson Lakes Art Center in Okoboji on March 21. The Noobers was one of three acts to advance to the finals. Other regional contests are being held in Dubuque, Mason City, Shenandoah and Des Moines through June 1.
The students are Myles Master on Vocals/Lead Guitar, Martin Macias on Vocals/Rhythm Guitar, Solomon Johnson on Vocals/Drums, and Austin Dixon on Vocals/Keyboard.
Winners compete for recording session and concert performance
The program is a statewide competition designed to encourage participation in music outside of school and provide professional development opportunities for young musicians. Winners of regional events advance to "Iowa Rocks Talent Finals" Aug. 31 at the Roof Garden in Arnolds Park. Winners of "Iowa Rocks Talent Finals" receive a recording session at Catamount Recording, hotel accommodations for Aug. 31, passes for the 2019 Iowa Rock 'n Roll Hall of Fame Induction Concert and Ceremony Sept. 1, and the opening slot for the concert.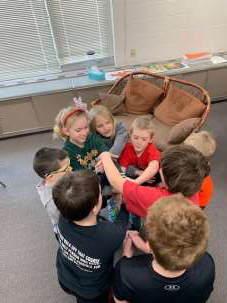 Character and Campfires at George Elementary
George Elementary students meet twice a week to learn about the Six Pillars of Character Counts: Respect, Responsibility, Trustworthiness, Fairness and Citizenship. Students earn positive Mustang Tickets when they are observed doing one of the Six Pillars on a consistent basis. Our goal is for students to grow not only academically but also as good citizens.
George Elementary also recently added a new hallway campfire reading nook where students can enjoy a good book.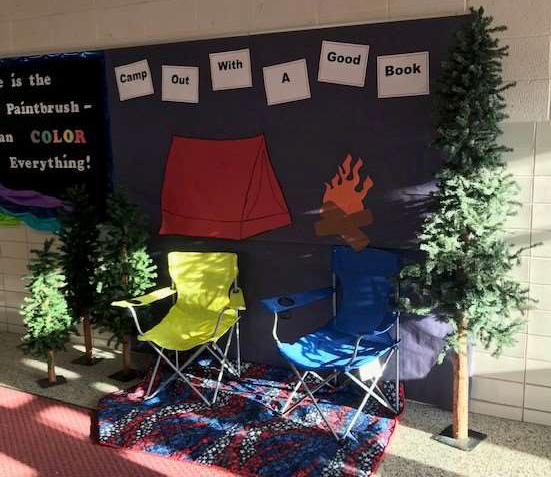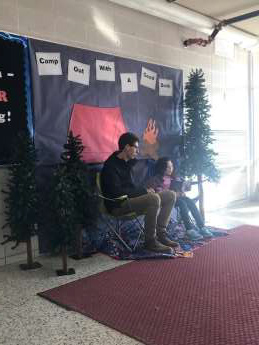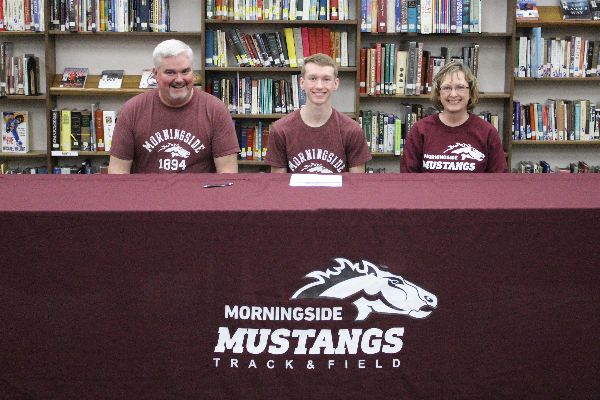 Basketball Players Earn Post-Season Awards
GLR girls basketball team photoG-LR is proud of how these players have represented our school!
Receiving Varsity Letter:
Makenna Arends
Madisen Dreesen
Courtney Dykstra
Madison Eben
Kayla Gerken
Emily Greve
Aftin Groen
Emily Jensen
Michaella Johnson
Olivia Johnson
Lauren Jurrens
Kaci Klingenberg
Mackensie Post
Siouxland All-Conference Honorable Mention:
Siouxland Academic All-Conference:
Makenna Arends
Kayla Gerken
Michaella Johnson
Academic All-Region:
IGHSAU Academic Achievement Team Award:
Have a team GPA average of 3.8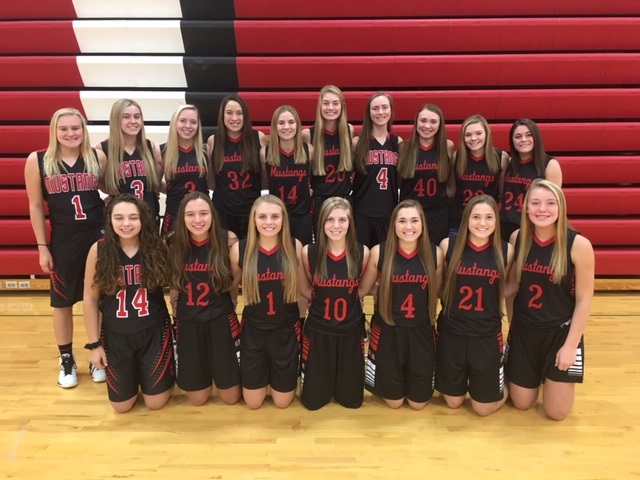 Musicians Perform 'Greatest Show on Earth'
Thanks to the GHS Swing Choir and Jazz Band and their teachers for an amazing performance at the 2019 Spring Swing that featured music from "The Greatest Show on Earth." This is just one of the reasons George-Little Rock Community Schools was named among the  "Best Communities for Music Education" in the nation!